Vickey Russell is the owner and operator of Hidden Acres Natural Farm and Blue Dog Academy.
A Tennessee native with a background in design, building, and industrial psychology Vickey discovered her calling to sustainable shepherding through her love of sheep dogs.
Today, Vickey shepherds flocks of 85-100 sheep year-round on 40 acres of local pasture.
In addition to tending her flocks, hand-weeding pastures, cutting hay, and maintaining the farm, she also runs Blue Dog Academy, a dog training, boarding, and agility business.
A passionate advocate of humane farming with a deep respect for nature and her animals, Vickey's sheep stay with her from beginning to end, and they enjoy their lives on Hidden Acres' pristine green pastures.
The sheep are watched over 24/7 by their protector animals
A sheep dog named Pearl and three adorably stubborn donkeys, "Donkey", "Jennifer" and baby donkey "Surprise".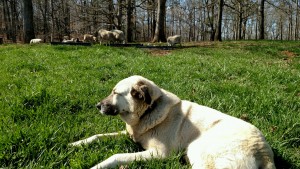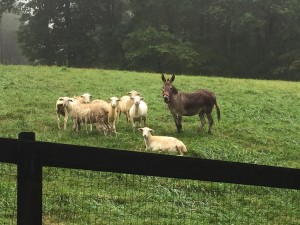 Hidden Acres is also home to 3 pygmy goats, a small flock of chickens, and several resident herding dogs.
When she's not shepherding or training dogs, Vickey enjoys dancing, practicing yoga, teaching agility training, riding her motorcycle, and meditation. She is also a big believer in natural medicine for both herself and her animals.