Hidden Acres is a Certified Naturally Grown sheep farm located an hour North of Atlanta in the foothills of the North Georgia Mountains.
We are a small farm and intend to stay that way.
Stewarded by sustainable shepherd Vickey Russell, our sheep are raised with love and honor and allowed to graze, grow, and develop at their own rate.
Humane Processing
We believe in shepherding our animals with love, honor, and respect from start to finish.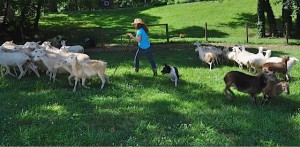 Vickey wakes up before the sunrise to take the sheep to slaughter at a local humane USDA processing facility.
When they arrive they are the first in line, we say a farewell blessing, and they are walked to the floor by our resident sheep dogs.
The Health Benefits of Grass Farmed/Pastured Lamb
Grass-fed meats have become wildly popular for their health, animal welfare, and environmental benefits.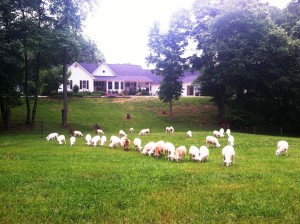 Grass-fed or "pastured" meats are lower in saturated fat, and offer a natural source of conjugated linoleic acid (CLA), omega-3 fatty acids, B-Vitamins, Vitamin E, and other essential minerals.
We take it a step further by raising our sheep on grass and hay with no grain-finishing.
This practice makes our sheep develop a bit slower, but prevents common illnesses prevalent in factory farmed settings, reduces stress on the animals, and keeps deadly pollutants, fumes, manure, and antibiotic-resistant bacteria out of our environment.
To learn more about our products and seasonal harvests

visit our ordering page

.