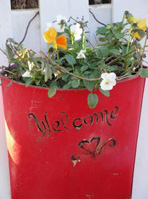 Hidden Acres Natural Farm is located in Murrayville Georgia, a small town at the foothills of the North Georgia Mountains. It is a Certified Naturally Grown farm that practices sustainable stewardship of the land and animals that live there. Grazing in the pastures at Hidden Acres you will discover Georgia's Finest Lamb.

If you like lamb you are going to love Georgia's Finest. It's raised naturally, respectfully, and with compassion. The sheep are raised humanely on open pasture, free from hormones or antibiotics. They live peacefully and are allowed to graze and grow at their own rate. There is no grain finishing or any other practices associated with factory farming. We wish to remain a small farm to ensure the integrity and quality of our animals. The goal of Hidden Acres is to offer Georgia's Finest Lamb to our community.
The Benefits of Grass-based Farming
A major benefit of raising animals on pasture is that their products are healthier for you. For example, compared with feedlot meat, meat from grass-fed lamb has less total fat, saturated fat, cholesterol, and calories. It also has more vitamin E, beta-carotene, vitamin C, and a number of health-promoting fats, including omega-3 fatty acids and "conjugated linoleic acid," according to an article by Jo Robinson, author of Eat Wild, www.eatwild.com.
Locally Grown
People worldwide are rediscovering the benefits of buying local food. It is fresher than anything in the supermarket and that means it is tastier and more nutritious.
Georgia's Finest Lamb is 10,000 miles fresher than lamb from New Zealand or Australia and it has less of an environmental impact due to the minimal carbon footprint associated with buying locally.
John Ikerd, a retired agricultural economics professor who writes about the growing "eat local" movement, says that farmers who sell direct to local consumers need not give priority to packing, shipping and shelf-life issues and can instead "select, grow and harvest crops to ensure peak qualities of freshness, nutrition and taste." Eating local also means eating seasonally, he adds, a practice much in tune with Mother Nature.